artist residencies canada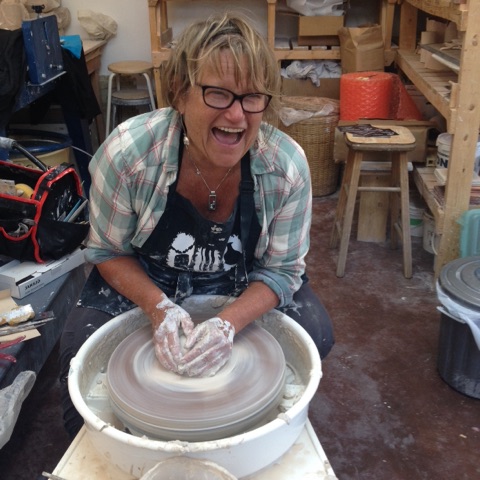 Diane Walters, is  a  lifelong potter (42 years throwing experience) and the owner of eARTh Studio, in Nelson, BC. 
She has  extensive experience working with low, medium and high fire clays and glazes, handbuilding, sculpture and wheel techniques.  Diane regularly participates in workshops for advanced potters, and attends the NCECA National Council of Ceramic Educators conference, annually. Her work is in galleries in Alberta and BC. She is a member of the BC Potters Guild.
 Her fascination with the earth's sedimentary layers and mountainous landscapes led her to explore this theme in her womanscape basins and tectonic platters. These works depict geological form and movement using natural oxides and sculptural formations which call out the message that the earth is alive and she is holding us at the table. Her pottery line is often undergoing its own metamorphosis and is currently exploring liminal spaces, capturing the line between emptiness and emergence in form and colour. 
eARTh Studio provides a creative sanctuary, an inspirational space where your inner artist and explorer can come out to play. Playing with the earth via form and glaze, exploring the unknown through achievement and failure is to find one's stillpoint through the act and art of making. Diane believes the role of art will raise humanity's trajectory out of materialism to one of inspired perceptivity.
eARTh Studios and the Gallery Suite art escape retreat are owned by Diane Walters. She has been a potter for over 43 years as well as a teacher. Diane combines her passion for pottery, gardening and amateur astronomy to design creative workshops and events that often combine her three great loves.
I believe that art can save the world by unfolding our imagination and develop inspiration, while intuiting the Muse in each one of us. This is what makes us fully human in a world which needs all of us to come alive. Whether you are looking for an art escape, a one time experience or a longer residency in which to touch base with your inner self, eARTh Studios will meet your needs. Have a look!
Don't wait to start your art escape!